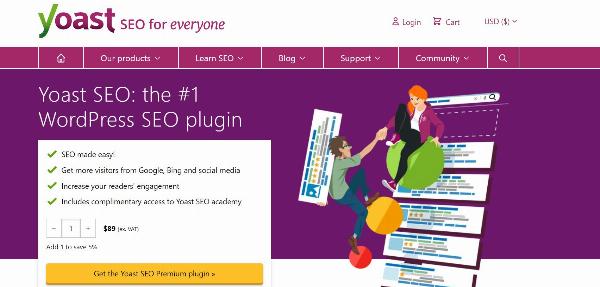 Yoast SEO: Best WordPress SEO Plugin Reviews 2021
Although there are so many ways to get traffic to your website, search engines are the most dependable. Hence, it is very important that the blogs are optimized to be found by search engines. At the same time, it is not easy to have a perfectly SEO ready content.
Yoast-SEO is a WordPress plugin that eases your hassles by taking care of most of the things related to the on-page SEO of your blog. Although the free version of 'Yoast-SEO' is just great, you can benefit with some added features with their premium version as well.
Some of the reasons that make Yoast-SEO plugin a go-to SEO tool are:
1. Content optimization: The posts are run through a quality check by the tool, to see if keywords and meta descriptions are used appropriately. It also suggests if correct keywords are used in correct places.
2. Improving readability: It analyses the post for any grammatical errors or proofreads the content for any mis-spelt keywords etc. and suggests improvements for the overall readability of the content.
3. Prevention of RSS feed: If some other websites have sourced any content from your site, there are chances that such websites will rank higher than yours in SEO. Yoast-SEO will avoid such data scraping by adding link to the source (your content).
However, Yoast-SEO is still a software. It might not understand what is the intention of an article that you are writing. There is always scope for softwares to throw-up irrelevant keywords. Sometimes, you might get overwhelmed by the time spent on fixing suggestions of the software than what you actually spent on writing a flawless blogpost. Hence, it is always better to weigh down the pros and cons before you decide to plug-in the 'Yoast-SEO' to your blog.