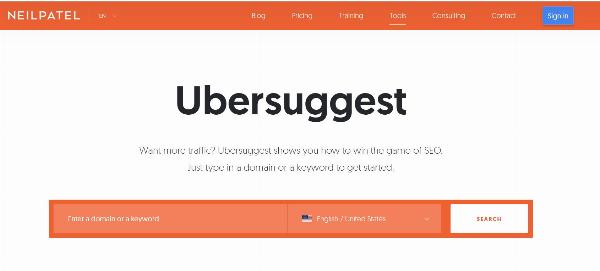 What is Ubersuggest?
Ubersuggest is a free keyword research tool with the help of which you can do SEO for your blog/website. This is a completely free tool that means you do not need to spend a single penny to use it. This tool has been created by Neil Patel who is a Digital Marketing Expert. Whether you are a beginner blogger or an expert, you can do the best keyword research with the help of this tool.
Those who are new bloggers do not know how to analyze their blog properly, so Ubersuggest proves to be very beneficial for you. Using Ubersuggest, you can know for your blog how much organic traffic your blog has and how many backlinks your blog has.
Whenever new bloggers start their blogging, then according to me they must use this tool. Because one, it is completely free and with the help of this you can also know a lot about your competitor's blog. By a lot, I mean how much is the organic traffic of his blog. What is the cpc rate of the keywords he has used.
There are many other such things, there are many such factors that this tool tells you. By analyzing these factors, you can do SEO of your blog and get rank in Google.
This tool is very easy to use. Type whatever keywords you want in the search box or paste anyone's domain here. Then you will get to see the Search Volume, CPC, SEO Difficulty of that keyword all on the same screen in the result.
If you want to analyze someone's blog, then you enter its full URL in the search bar, then this tool will give you all the information about that domain.