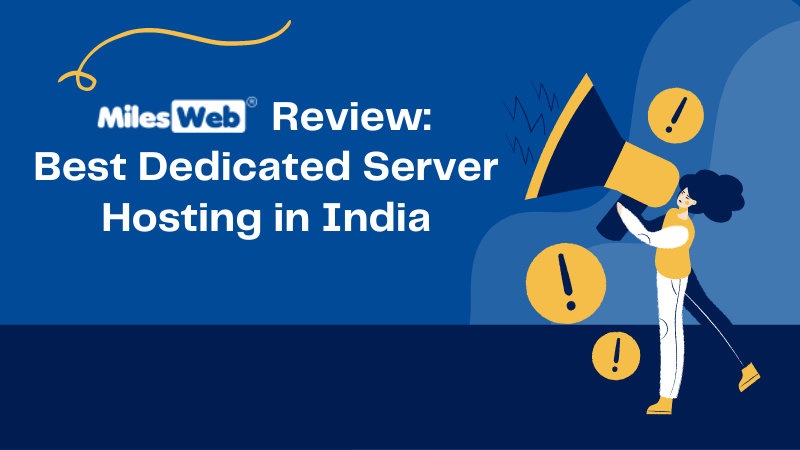 MilesWeb - Best Dedicated Server Hosting In India
Website is an essential need when it comes to establishing a new business. Over the period, the value of having a website has increased. Whether you are starting new or expanding the business, what keeps the website alive is hosting services. 
If the website is new and has lesser server requirements, shared hosting will work the best. In the future when it grows bigger and receives heavy traffic, shifting to a better hosting server is crucial.
The need for a dedicated server also depends on the requirements. If you are renting shared hosting or cheap managed VPS and there are sufficient resources, you can continue with previous hosting services. 
The need for a better hosting server increases when you acknowledge heavy traffic, running out of storage, need committed resources or assuming future business growth. 
In this review, we will talk about what a dedicated server is and how can you benefit from MilesWeb dedicated server hosting?
MilesWeb is a leading hosting provider in India. They have served around 30,000 active users. MilesWeb is well known for its quality service and endless support. Being quality hosting providers, they offer a 30-day money-back guarantee if they don't meet their user's expectations.
MilesWeb offers many hosting services, and their technical team suggests the best hosting based on the user's needs. Dedicated server hosting is one of their best selling hosting services. With great features, you can expect better growth in your business. 
What Is Dedicated Hosting And, Why Should I Opt For It?
The word 'dedicated' itself passes the vibe that something is devoted or committed. In shared hosting, you share the server and its resources with thousands of other users. While, in dedicated servers India, you can have the entire server to yourself. A dedicated server means the server is committed to your website. You will have control over the resources. Because no other user is sharing the hosting server with you, you can customize it the way you want.
With a dedicated server, hosting a website becomes more secure and safe. It ensures visitors about authenticity, courtesy of the free SSL. They rely on your website with their personal information as it secures this personal information shared between the server and visitors browsers through HTTPS.
Furthermore, when a website starts to receive heavy traffic, it can face more downtime. A dedicated server helps speed up the web page since no other users' traffic is affecting yours. A dedicated server overall helps increase the ranking of your website, which is essential for any business. 
Why MilesWeb Is The Best Dedicated Server Hosting In India?
MilesWeb offers dedicated server hosting at affordable prices that is not only cost-effective but also provides endless benefits. 
They take care of your needs and help resolve hosting queries whenever required. 
Here are the features offered by MilesWeb to end-users -
1. Host Countless Website - You can host unlimited websites under a dedicated hosting server. There is no restriction for the same. You can also shift all your websites from shared hosting and VPS to their dedicated hosting server at no extra charges. Additionally, you can resell your dedicated resources by hosting your client's website on your dedicated server. It will help you make a side income. 
2. Wide Range of Operating Systems - You can select the operating system of your choice, and MilesWeb will immediately set it up for you so you can get started with your hosting account.
3. High-level Security - As no other user shares the server and resources, high-level security is assured. You can expect reliability and privacy between visitors and servers.
4. Run Custom Applications - MilesWeb dedicated hosting service allows you to run custom applications hassle-free. Even if these applications are heavy, you will not face downtime and, the server will run smoothly.
5. Add-On Managed Dedicated Hosting - MilesWeb offers managed dedicated hosting services. They will take care of your server 24/7 to ensure the web page is available to your visitors at any hour. Managed services are paid add-ons. Meaning - you will have to purchase the plans as per requirements. 
6. Control Panel - MilesWeb provides cPanel and Plesk control panel with all dedicated hosting plans. On your billing, their team will configure the control panel on the server.
7. 99.99% Uptime - MilesWeb offers guaranteed reliability and satisfaction with a service level agreement. They have an uptime of 99.99% that is one of the highest among all web hosts. Because of higher uptime, your visitors will not have to wait longer for the web page to load. On the other hand, it will increase the traffic to your website. 
Conclusion
A dedicated server works best when there is enough need for it. For a business website, downtime is not an option. It needs to be up all time to ensure a better user experience. So for such websites dedicated server can help increase visibility.
MilesWeb dedicated server hosting is affordable. They are renowned hosting providers in the industry known for their quality services. I am confident that if you try MilesWeb's dedicated hosting, you will not regret it.