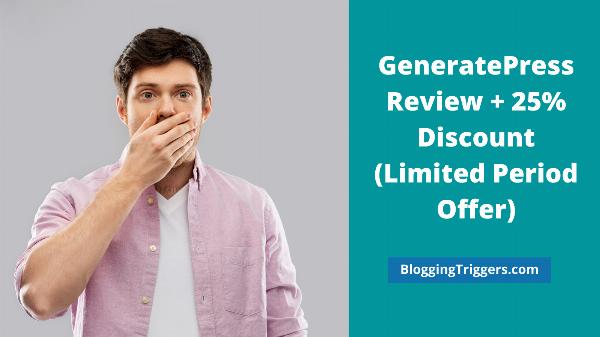 GeneratePress Review: Why All WordPress Pros Like it? (25% off)
Whether you are running a business website or a blog, you may want to get full control over the theme layout and customization. Because sometimes we may want to change its appearance, typography, and others to apply a fresh look to the site or make it mobile-friendly.
What will do if your theme has limited options to customize the parts?
Premium WordPress themes are highly flexible than free themes and give you more freedom over the management. Even though, it is not possible for you to design a website like a page builder does. It may also miss some important features that you are looking for. I experienced this situation several times during the blog customization.
I changed themes (again and again) and contacted their customer support to get what I need. But sometimes nothing worked for me.
Do you know why?
Each theme has unique characteristics. It cannot be changed as per our requirements. Some themes won't have a custom layout or secondary navigation options. No developer can help you in this regard and if you still want to have them, better to change your theme.
Simplicity is another major factor that you should consider while choosing a premium WordPress theme. It should load fast irrespective of the device types to rank higher in search engines and thereby boost traffic and sales. Can you suggest any theme having these characteristics which search engines, as well as humans, will love?
Simplicity + Light-weight code + Flexibility = ?
What is GeneratePress?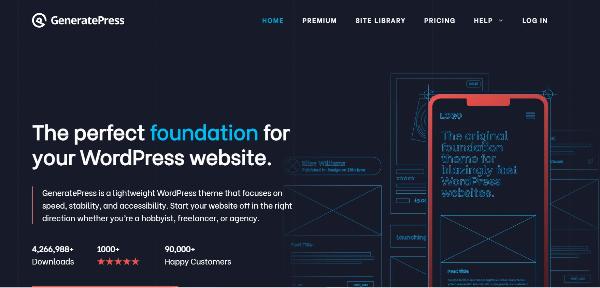 GeneratePress is a simple, free theme for WordPress. It is light-weight, flexible, and perfect for all types of websites and blogs. The premium modules allow you to add, edit, and remove almost anything on the site without affecting your theme quality and user experience.
Being SEO and mobile-friendly capabilities, GeneratePress will be a great asset to your online business. Downloaded more than 4 million times and having more than 90,000 paid customers, it is one of the popular WordPress themes with unique quality and design. This open source theme gives you total freedom in customization.
Build your dream site using their premium-quality website templates or design it from scratch with the built-in theme builder. Customize your layouts, header, footer, typography, and more through hundreds of customization settings.
Unlike many other WordPress themes, GeneratePress does not impose any restrictions in transforming any part of the site, from the header to the footer. The only obstacle is your creativity. Otherwise, your design can be molded in any way. You can redesign your blog into a business website or online store in minutes.
If you want to create separate headers for desktop and mobile devices, add multiple navigation menus, or having something to insert anywhere in the theme, GeneratePress has unique options for all of them. It is amazingly light-weight and super efficient to create a lightning fast website on WordPress.
GeneratePress is perfect for businesses, agencies, bloggers, and others to build a website they need. It is also responsive and SEO-friendly.
Even though, GeneratePress is priced at just $59 per year. Comparing to the theme quality and functionalities, it is cheap. Moreover, you can use it in up to 500 websites, including client websites.
Originally posted on: https://www.bloggingtriggers.com/generatepress-review/
Comments (1)