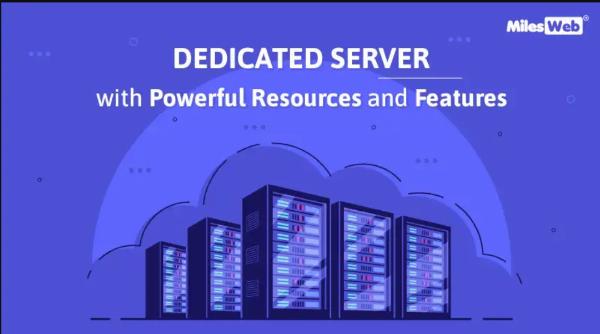 A Perfect Guide to Choose MilesWeb's Dedicated Server Plans
Website owners get the server to host web projects exclusively in dedicated server hosting. It means they do not have to share server resources with anyone else. Also, in this type of server, users can tailor the whole server according to their requirements. However, it becomes an expensive deal for users as the entire server is dedicated to a single user.

So, if you are looking for an affordable web hosting plan with top-notch features and advanced server configuration MilesWeb is a good web hosting company to partner with. They have a fine-tuned network of Powerful Dedicated Servers worldwide with optimal features. Also, they provide different dedicated web hosting services according to users' requirements. So, if you are unaware of what to look at while choosing these plans, read this guide. Below are a few tips to consider while selecting their dedicated server plans.

What to Consider While Choosing the MilesWeb's Dedicated Web Hosting Plan?

The Basic Server Resources

With every MilesWeb dedicated server plan, you get server resources like CPU, RAM, and SSDs. So, according to the size of web projects, you need to choose the right strategy. For instance, if you are hosting 100 websites, you require 32 GB RAM and a 480 GB SSD, so you cannot go with their basic plan. In that case, the E5-2630 2.00GHz plan is the right option for you to choose because it offers the same configuration.

We have highlighted all major plans of MilesWeb's dedicated web hosting plans in the image below. Give a quick look.

1. Storage Space

In web hosting, disk space available on the server matters a lot because you will store your databases, files, and domains. After all, this content includes videos, files, databases, emails, and others. Hence, an appropriate and sufficient disk space is a must, and MilesWeb has a range of SSDs (Solid State Drives) from 480 GB SSD to 2 TB SSD. For further reference on it, you can refer to the above image. Therefore, hosting volumes of projects on a dedicated server is not challenging because you choose a good storage space.

2. Bandwidth Size

Remember that bandwidth is a parameter that determines the amount of data transferred on the internet. For instance, if your portal contains a 1MB size image with 2000 daily visitors to view it, your dedicated server should have a minimum bandwidth of 2GB.
The significant part of choosing MilesWeb as a web hosting partner is they have a different range of bandwidth sizes ranging from 1 TB bandwidth to 5TB bandwidth. Thus, irrespective of the size of your web projects, their dedicated servers can quickly transfer and host the web project.

3. A Guaranteed Uptime

MilesWeb ensures a guaranteed uptime of 99.99% for hosted web projects on the dedicated server. They have a global Tier 4 data centers network that makes this guaranteed uptime of 99.99%. Due to ultra-fast network connectivity and advanced servers at their data centers, web projects operate at 24*7 availability.

4. A User-friendly Control Panel

A control panel is a must to manage your databases, files, domains, and applications on the server. So, if you choose MilesWeb dedicated server hosting plans, you will get different operating systems based on the operating system you have. DirectAdmin, cPanel, Webuzo, and 1-Click installer are a few available control panels with MilesWeb. According to the number of required domains or accounts you need to manage, choose any control panel.

5. Managed Support

By default, MilesWeb does not provide managed support to any dedicated server plans. However, you need not worry if you do not have the technical expertise to manage the server. The leading web hosting company provides add-on managed support to clients of the dedicated server.
Website owners can connect with their customer support team via email or live chat. Also, managed support is available at additional costs for all dedicated server plans. Thus, website owners need not worry about configuring software and updating them. Also, the technical team will take care of fixing technical glitches.

6. Processor

A quick processing power should be in your checklist. It is because hosting resource-intensive web projects on the low-quality processor will have low performance. However, if you choose MilesWeb, all their dedicated servers include the latest generation Intel Xeon Processors. As a result, you operate web projects at a blazing fast speed. Moreover, these processors are suitable for using mission-critical websites and applications.

Closing Words

MilesWeb is one of India's best web hosting companies, providing high-quality dedicated server plans. Users get different dedicated web hosting plans at a nominal cost. Also, their plans are suitable for different size web projects. Website owners can host unlimited accounts with top-notch enterprise hardware in their dedicated servers. They will not charge a single amount to set up the server and will do the same in no time.